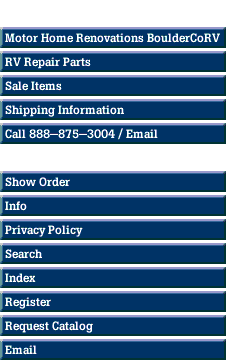 SPECIALIZING IN CLASS A, DIESEL MOTOR HOME
SERVING THE INDUSTRY SINCE 1999
300 Center Drive Suite G#272, Superior, Colorado 80027, 888-875-3004
LOOKING FOR A DEAL? WE CAN ACT AS YOUR AGENT AT DEALER ONLY AUCTIONS!
TAKES SOME WORK, IF YOUR UP FOR IT-CHECK OUT THE UPCOMING AVAILABLE UNITS!
Limited High Quality Inventory Sales
Parts and Accessories
RV Service, Repair and Renovation / customization
Pre-Purchase Inspections
Wholesale Location means Low Prices and Labor Rates
Serving our customers since 1999. Satisfaction in our Work and Product Guaranteed. All orders are secure using industry-standard SSL encryption.
entire site copyright 1999-2016.