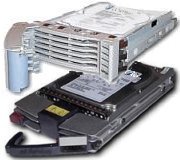 You've seen the rest, now buy the best from an Original HP Manufacture. Same Manufacturer, same intense qualification, same warranty Hot Swap drives so you are Guaranteed Quality and Compatible!

Don't buy HP/Compaq drives from another source and expect the level of product quality and service that you did from HP. e4ServicesInc.com drives undergo the intense qualification process HP required that eliminates data integrity problems, firmware and O/S incompatibilities, and other causes of data corruption or premature failure.
e4 Services hard drives are specifically designed and tested for flawless operation in your Hewlett-Packard/Compaq equipment. By using these hard drives instead of other cheap products with your Hewlett-Packard server or workstation, you prevent incompatibilities and failures that can rob your system of performance or cause you to lose valuable data.

State-of-the-Art Disks, w/Highest Performance
Half the Power, Better than the Original
e4's Advanced Replacement 3yr Warranty
Intense Qualification
Support you can count on.